As Fall approaches and inclement weather, I stock up on chocolate, coffee and good books! I like to have books on my shelf just waiting to be enjoyed. I am trying to get my children to take an interest in reading and stock up their own shelves. Recently I was able to present my son (age 11) with a book from
Salem Ridge Press
based on true events with a fictional setting. I am trying to expose him to a variety of "quality" reading material. He has his favorite reading genres but sometimes I would like to see him read something more meaty
.
Soldier Fritz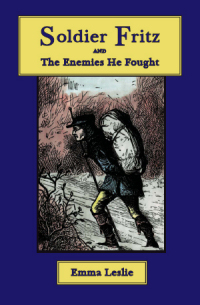 Story Setting: Germany in 1525 - 1526
Notable People and Events: Martin Luther, German Reformation
Originally published in 1871; 137 pages; For Ages 8 – Adult
$10.95 soft cover edition
The font of the book and line spacing makes for easy reading for children. The drawings are simple black ink pictures. This book has two illustrations which might seem lacking to some children who still enjoy picture books. I like that unfamiliar words like : furbishing, palfrey, anteroom are defined simply in the margins of the book
.
My son's opinion: That the story is long, very wordy but interesting. He would describe it as realistic and teaches the lesson of conquering your inner fears and learn to control yourself before you can conquer the world. It teaches that the Holy Bible is real and though people tried to keep the bible out of the common people's hands they failed. It shares the historic fact that before people could read the bible for themselves they were taught lies by the spiritual leaders of the day. It is a good story for kids because it explains how children lived in medieval times and kids can relate because the lessons the book teaches are still valuable today
.
My daughter (age 7) and I are enjoying
Mary Jane Her Visit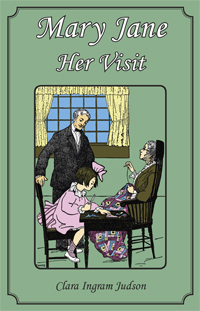 Originally published in 1918; 190 pages; For Ages 6 – 10
Softcover $12.50
The second book in the Mary Jane series, five-year-old Mary Jane has more happy wholesome adventures, this time at her great-grandparents' farm in the country where she hunts for eggs, picks berries, finds baby rabbits, goes to the circus and more!
I have to say I like the illustrations better in this book. They are very reminiscent of the ink drawings of Victorian art. Again the spacing and font are well suited to pleasant reading with definitions in margins as needed. I am enjoying this story because it dignifies the values I want my children to learn of contributing to the welfare of the family by working together (Chapter 10 Learning to Cook), working to earn what you want (Chapter 13 Earning Money), and being considerate to others (Chapter 5 Gardening with Grandfather).
So in conclusion I would definitely recommend these stories for your family's shelf. The wordiness my son mentioned can be attributed to the time period that many of these books were written in-late nineteenth century. I liked that it caused him to "stretch" himself and think more as he read. I also enjoyed that the stories broadened both children's vocabularies. We used the word "valor" in a sentence! The stories reprinted by Salem Ridge Press are historical fiction but they have made selecting the stories very easy by dividing their
book lists into categories based on readers' age, time period and author
.
Winter's coming get stocking those shelves.
Any products reviewed by me as a member of the TOS Homeschool Crew have been given to me free of charge in order for me to provide you with an honest review of the product and/or how I used the product within my family. I do not receive any other form of compensation for the reviews posted on this blog.